Invisalign – East Gwillimbury, ON
A Discreet Alternative to Metal Braces
Since its debut, Invisalign has remained one of the most popular teeth-straightening options. With faster average treatment timelines, comfortable aligners, and no metal brackets or wires, it's not hard to see why either! If you're interested in this discreet and effective alternative to traditional metal braces, then read on or reach out to our cosmetic dentists to schedule an appointment.
Why Choose Queensville Dental for Invisalign?
Highly Trained and Talented Dentists
No-Goop Digital Impression System
Convenient Appointment Times
How Invisalign Works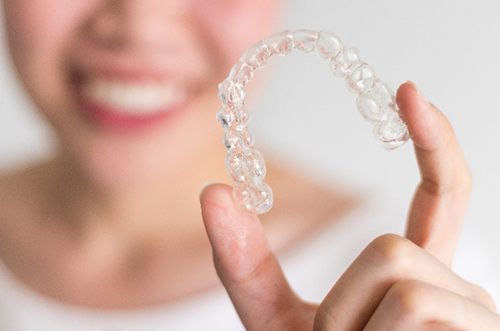 With more than 12 million patients around the world, Invisalign is one of the most sought-after teeth-straightening solutions. To create gorgeous smiles, their comfortable and clear aligners are custom-made for each patient. When you wear them for 20-22 hours a day, each tray in the series will move your teeth closer and closer to their ideal positions. At the end of your treatment, you'll have the straight teeth and gorgeous smile you've been dreaming of!
Indications for Invisalign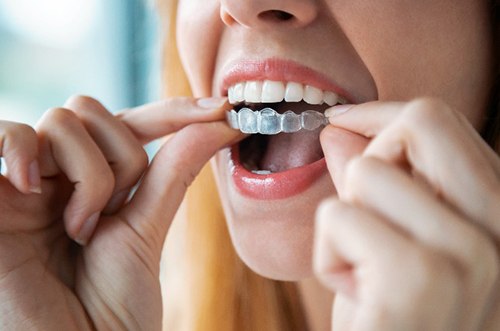 The good news is that Invisalign can help patients with both mild and moderate cases of malocclusion. Most often, the clear aligners are used to address:
Crowded Teeth
Overcrowded teeth aren't good for the health, function, or look of your smile. Fortunately, Invisalign's clear aligners can gently guide your teeth into the right places, which can reduce your chances of developing tooth decay, improve your bite, and boost your self-esteem.
Gaps Between Teeth
Spaced-out teeth are another common orthodontic issue that Invisalign can correct. By slowly closing the gaps, Invisalign can improve your oral health and the aesthetics of your smile – sometimes in as little as six months too!
Bite Alignment
If your bite isn't aligned properly, you may chew your food unevenly or grind your teeth throughout the day and night. Whether you have an overbite, crossbite, or underbite, Invisalign may be the solution!
The Benefits of Invisalign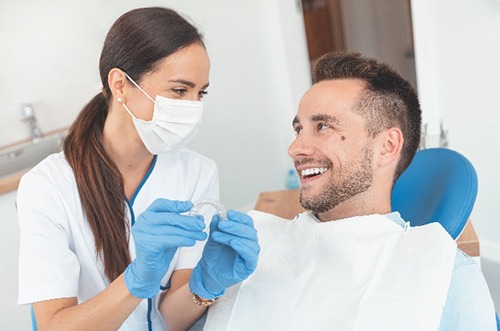 Although Invisalign is well known for their clear, discreet aligners, this is just one of the many benefits that this orthodontic treatment comes with. In addition to being aesthetically pleasing, patients love them because:
There are no dietary restrictions
There are fewer check-in visits
There aren't any complicated oral hygiene regimens
The average treatment timeline is between 12 and 18 months
How Much Does Invisalign Cost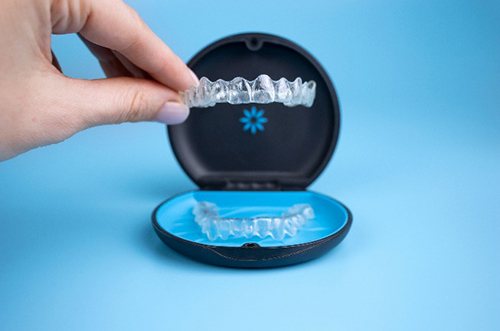 Since Invisalign is customized to each patient, the cost can vary. During your consultation, our talented dentists in East Gwillimbury will conduct an oral exam to determine how severe the misalignment is, whether you need to straighten both arches of teeth, and other important factors that influence the cost. We will also review the financial solutions available, including dental insurance and low-interest financing, to ensure you can get the treatment you need without stressing about the price.
Invisalign FAQs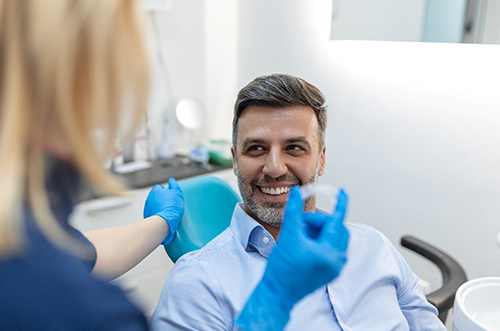 Many patients are hesitant to start their journeys towards a straighter, more beautiful smile because they need a little more information about Invisalign treatment to feel comfortable taking that first big step. We want you to have all of the answers you need to feel confident and comfortable scheduling your consultation, which is why our team has collected common questions we get asked below for your convenience. If you don't see what you're looking for, please give us a call!
How do I clean my Invisalign aligners?
Cleaning your trays daily is important to keep them from smelling and accumulating plaque and bacteria. There are a couple of different ways you can maintain them, including:
Invisalign Crystals: The best and most common cleaning method for aligners is soaking them in Invisalign crystals. These can be purchased online and will get the job done without you having to risk them becoming scratched, discolored, or damaged. Simply fill a small container with lukewarm water, stir the crystals in until they dissolve, and soak your aligners in the water for 15 minutes. Be sure to brush and rinse them before placing them back in your mouth.
Clear Antibacterial Soap: Another popular cleaning method is using clear, unscented antibacterial soap, which you can purchase at any store. If you use one that's colored, it will likely stain your trays. You can either soak your aligners in a soap and water solution or place the soap directly on them and gently brush and rinse them.
What foods can I eat while undergoing Invisalign treatment?
One of the greatest advantages of choosing Invisalign aligners is that you can eat all of your favorite foods while undergoing treatment. All you have to do is take out your trays before you eat anything. To prevent losing them, store them in their hard protective case, and be sure to brush your teeth and rinse your trays before placing them back in your mouth.
How long will I need to wear my Invisalign aligners for?
Every treatment differs based on the severity of your orthodontic case. That being said, the average Invisalign treatment lasts between 12 and 18 months. However, we'll be able to give you a more detailed estimate once we've had a chance to examine your smile. You'll also need to wear your trays for between 20 and 22 hours a day to stay on time with your treatment. If you don't, it could lengthen the process.
Can I get Invisalign if I've already had traditional braces?
We commonly see patients who have undergone traditional braces treatment and didn't keep up with using their retainer, so they wonder whether they can give straightening their smile a second shot with Invisalign. The answer is most definitely!