Dental Implants – East Gwillimbury, ON
The Only Root-to-Crown Tooth Replacement
No matter how many teeth you are missing, even one can dramatically change the way you perform normal daily tasks such as eating and speaking. It's important that you take action when faced with an incomplete smile, as further jawbone deterioration and tooth loss can occur. This is why our dental team at Queensville Dental is here to recommend dental implants. Known for their stability, functionality, and longevity, these permanent prosthetics offer the only root-to-crown tooth replacement. Call us to schedule your consultation to learn if you're a candidate for dental implants in East Gwillimbury, ON.
Why Choose Queensville Dental for Dental Implants?
Dental Implant Placement & Restoration In-House
Personalized Treatment Plans Based on Patients' Needs
Friendly & Caring Dentist with Years of Experience
What are Dental Implants?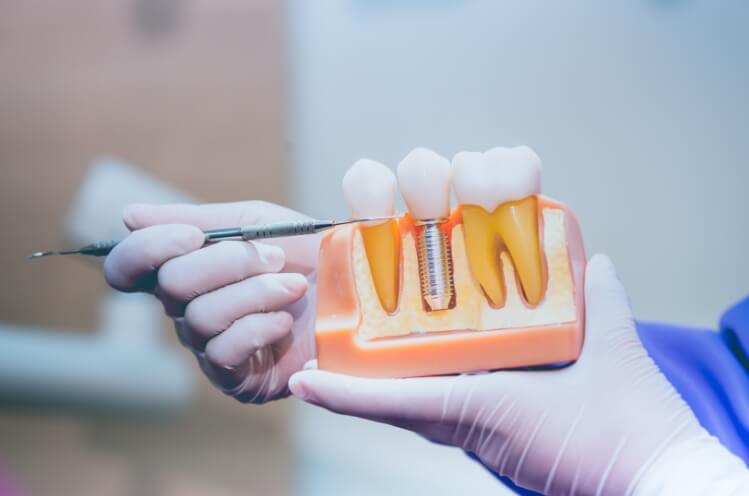 Similar to a screw, these titanium posts mimic the natural roots of teeth. Placed below the gumline and into the jawbone, they fuse over several months and create a solid foundation. Once fully set in place, a customized dental crown, implant bridge, or implant denture is placed on top, creating a full, complete smile for good. With proper care, dental implants can last 30 years or more, while also mimicking the look and feel of your natural teeth.
The 4 Step Dental Implant Process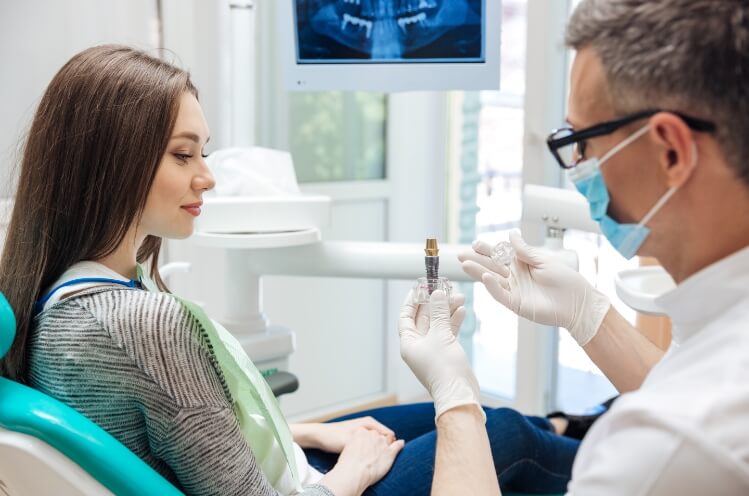 Dental implant placement and restoration is a multi-step process that requires you to remain patient throughout treatment. While many dental offices must refer patients to outside specialists, our team can place and restore them in-house, so you can remain in one convenient location for all your oral healthcare needs.
Although every patient's journey is different, the typical timeline includes:
Initial Dental Implant Consultation – You will meet with Dr. Goldberg to discuss candidacy and whether you will need preliminary treatments beforehand.
Dental Implant Surgery – We will place your dental implants in-house, providing local anesthesia and sedation dentistry if necessary.
Dental Implant Osseointegration/Abutment – After spending 3-6 months recovering at home, you will return to have your metal abutments put into place.
Delivery of Dental Implant Restoration(s) – The final step is receiving your customized dental restoration, which will be secured to the tops of your implants.
Benefits of Dental Implants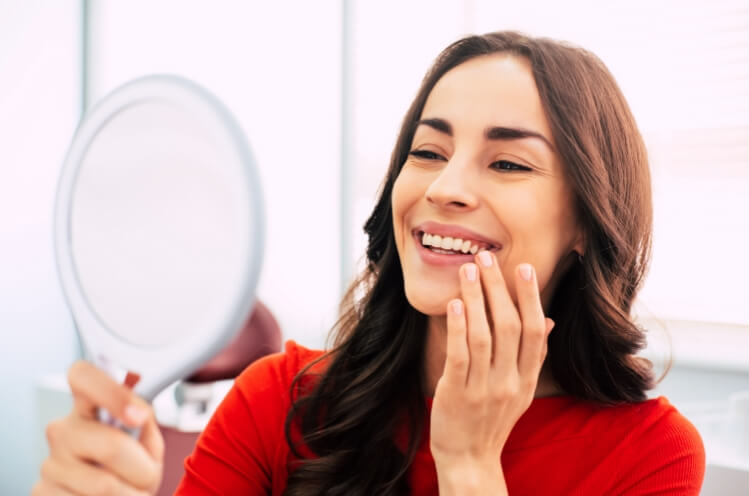 More than 5 million Americans are living with and enjoying their dental implants. With more than half a million being placed each year, they're becoming one of the most popular options for tooth replacement. But it's not just their permanency that makes them the preferred option, they are also:
Designed to replace the entire root-to-crown structure, not just the visible portion.
Capable of allowing you to eat nutrient-rich foods that benefit both the mouth and body.
Designed to last 30+ years with proper maintenance.
Helpful in reducing systemic issues like osteoporosis, diabetes, and heart disease – all of which are commonly tied to tooth loss.
Capable of stimulating the jawbone for a stronger facial appearance.
Who Dental Implants Can Help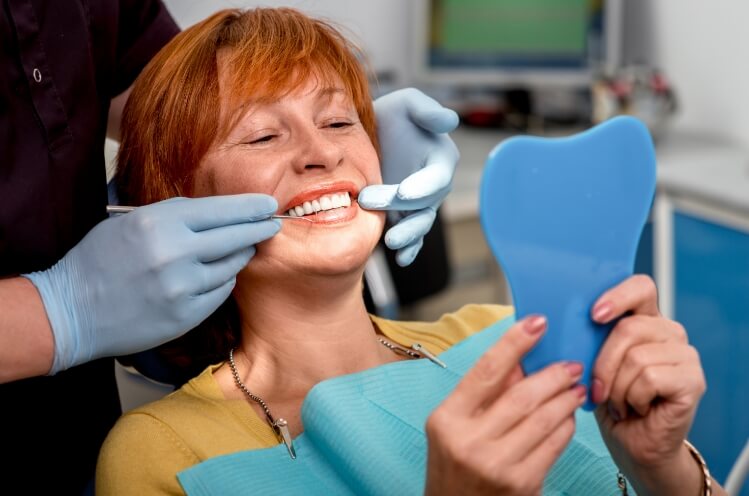 Considered the most versatile tooth replacement solution on the market, dental implants are a great choice for almost any adult suffering from tooth loss. Whether you require one dental crown or an implant denture to replace an entire arch, we can make sure your mouth is ready for oral surgery. If not, we'll recommend appropriate preliminary treatments to put you on the right path.
Missing One Tooth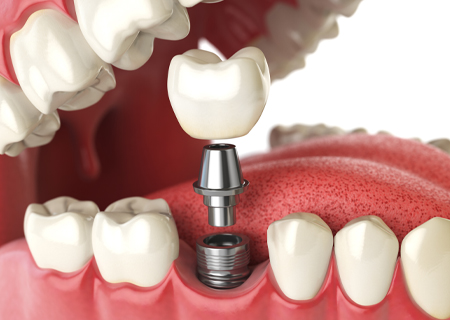 If you're missing only one tooth, we can use a titanium implant post, metal abutment, and customized dental crown to replace the tooth and create a complete smile. This allows for clearer speech as well as a stronger bite force when eating.
Missing Multiple Teeth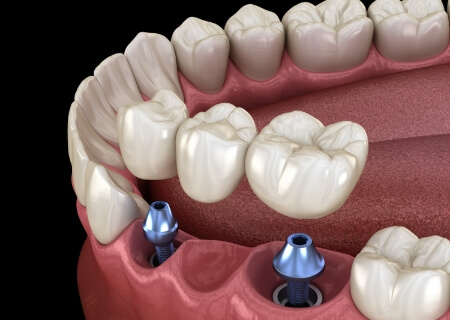 Using two dental implant posts can hold an implant bridge in place. When multiple missing teeth along an arch fall out or must be extracted, we can place a dental bridge that consists of two crowns and pontics that are artificial teeth fused between the crowns.
Missing All of Your Teeth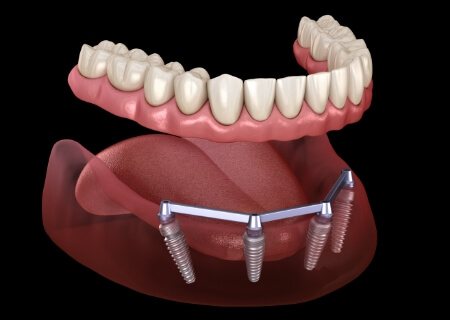 An entire arch of teeth can be treated using between four and six dental implant posts. Instead of relying on natural suction to hold it in place, we can administer local anesthesia as well as sedation, if necessary, and place each implant into the designated location for maximum support and permanency.
Understanding the Cost of Dental Implants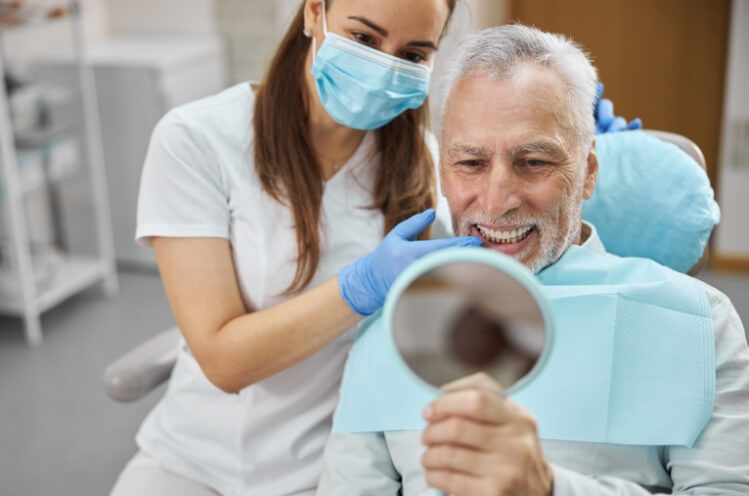 The cost of dental implants cannot be determined until you schedule a consultation with us at Queensville Dental. Only then can we determine the factors that make up your dental implant care and provide a thorough estimate. Once you have the details of your treatment, we'll work with you to help maximize your benefits as well as pursue alternative financing options to make your new smile more affordable.